Pricing Details
Junk removal pricing is quite simple. We simply charge based on the amount of space your items take up in the back of our truck.
We always provide you with a free, no-obligation price as soon as you show us what to take. Once you give us the go-ahead, we'll get started with the job and complete it right then and there!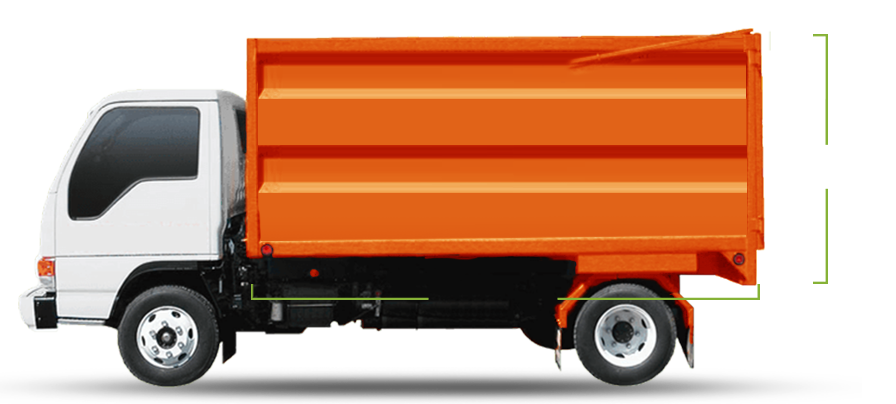 depth (8 ft)
height (4 ft)
length (12 ft)
FULL TRUCKLOAD $625
3/4 TRUCKLOAD $575
1/2 TRUCKLOAD $445
1/4 TRUCKLOAD $295
MIMIMUM LOAD $145
Truck Dimensions:
Length: 12 ft
Depth: 8 ft
Height: 4 ft
FULL TRUCKLOAD $625
3/4 TRUCKLOAD $575
1/2 TRUCKLOAD $445
1/4 TRUCKLOAD $295
MIMIMUM LOAD $145
Junk Removal Pricing | Altitude Hauling
Let's talk about Junk Removal Costs.  One of the questions we face most often from customers is, "How much is this going to cost?"  The underlying thought that the customer is trying to sort out is whether they should try to find a less expensive solution.  I would do the exact same thing if I was in their position.  I'll walk you through how pricing works, but first off, I want to share (proudly) that our prices are the most affordable in the Denver area.  This is specifically related to the cost per cubic yard of removed materials.  Truck sizes vary greatly between companies so fairly comparing truckload pricing to determine who offers the best deal can be challenging.
Pricing is determined based on how much space your items take up in our truck.  The minimum charge for a pickup is $145.  This might be a washer or a dryer or a small item.  From there, costs move through 12 different price points and the max out at $625 for a full truckload.  This is equivalent to 6 full-size pickup trucks.  That's a whole lotta junk!

Other factors that dictate Junk Removal Costs?
In providing junk removal services companies have many expenses including the job labor, office space, phone operators, tax and insurance.  Other vehicle-based expenses include gas, insurance, maintenance, etc.  Heck, even the landfills charge by the ton to drop off junk at their facility.   Rest assured, we do everything we can to offer the best prices to our customers.
Here at Altitude Hauling, our owner is on the truck and we work with recycling centers where possibles, which helps keep our prices low and our customers happy.  The best part is our prices are typically 20% lower than our competitors.  We even offer occasional specials so be on the lookout for those!
Should you comparison shop junk removal prices? 
If a customer did a superficial review of the various competitors in the junk removal industry in Denver they would find some companies that seemingly offer a cheaper junk removal price.  A company may post on their site a price like $480 for a full truckload while ours is $625.  They may even say they are $145 less expensive than us.  So how could our junk removal costs actually be less expensive than theirs?  Well, their truck size might only be equivalent to 4 pickup truck loads while ours is actually equal to 6.  This would mean they're charging $120 per pickup truck load while we are charging less than $104 per.  Wow, that's a big difference!
If you compare our pricing based on the costs per cubic yard against two leading competitors you can see from the info below that our pricing is the most affordable.
$38.33 per cubic yard (When you book online)
$39.73 per cubic yard
Competitor #1
$42.38 per cubic yard
Competitor #2
Is Junk Removal Pricing Negotiable?
A lot of people try to negotiate junk removal prices. Unfortunately there typically isn't enough room to negotiate a job because our prices start off as affordable as possible.  Who wants to argue about costs anyways?  Isn't it nice to know that the price you're quoted is as inexpensive as it can be offered?
What about the big franchises?
Franchises have better name brand recognition and higher ranking in Google which certainly increases the demand for their services.  This, in turn, allows them to charge more money per job compared to local providers.  This is basic economics: more demand allows higher prices to be charged. Typically the big franchises also charge an additional 15% fee which goes right out of state to corporate.  Some franchises even offer profit sharing which unfortunately incentivizes employees to charge as much as they can for a job.  Do you want the staff members to make more if they can price your job higher?  I highly doubt it.
Is cost the only important factor?
Customers want and deserve affordable junk removal costs, but is that the only thing that matters?  Customers also want vendors that are going to show up on time and be professional and courteous (and get the job done quickly).
The junk removal company's staff members may potentially need to be in your home and we know you don't want mud tracked or anything broken.  Plus having strangers in the home in the first place can be a sensitive matter.  It's reasonable to expect the area where the junk was removed from to be broom swept after the job.  Working with reputable companies with great reviews online is important here.  We pride ourselves on having terrific reviews and information on our Google Maps, Yelp and Facebook pages.  Plus we offer same day service where possible.  That's a nice touch!
Why Altitude Hauling?
We know customers have a lot of choices when it comes to Junk Removal. We hope you pick our team to work with and we hope that the cost of our junk removal service isn't the only reason you choose to work with us.  With over one hundred 5-star ratings across the popular review sites, Altitude Hauling is your best choice for junk removal in the Denver area. Our team goes the extra mile to make sure that you are 100% satisfied.
We're now even offering a promo for $20 off when you book your junk removal job online.  That's how serious we are about earning your business.