Clean Out Services in the Denver Area – Altitude Hauling
Full-Service Clean Outs
Our clean out service is the best in Denver! That's because we handle every detail from start to finish!
Choose Local Pros! Our Altitude Hauling team has the most experienced and capable crew!
Review Your Quote! We'll give you a service quote at no cost! Review it and then give us the thumbs up!
Watch Us Work! Our team will gather, move, and load all items into our truck. You don't have to move a thing!
We'll Handle Hauling! When everything is loaded, we'll take it for donation, recycling, or disposal.
We Take It All
Altitude Hauling provides the junk removal services you need when taking on a home or business cleanout!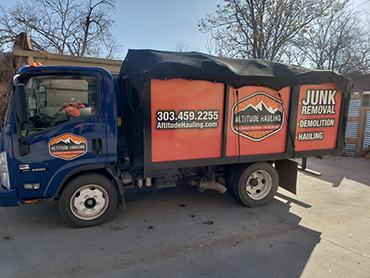 Cost of Clean Out Services
We place a high priority on fair pricing! Here's our promise to you!
No-Cost Quotes. We'll consider your specific clean out service needs and give you a quote at no cost!
Comprehensive Pricing. Your quote will include everything! That means labor, hauling, and disposal!
Affordable Rates. Our rates are fair, honest, and affordable!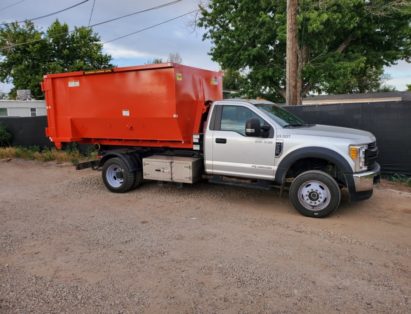 Fast and Prompt Service
You probably want to save time just as much as you want to save money. By choosing Altitude Hauling, you won't have to do that junk removal job on your own, which is great! But how else do we save you time?
Do you need junk pick up fast? If so, consider our same-day and next-day junk removal appointments, which are available right now!
With our courtesy calls, you won't have been caught in the middle of an errand by a surprise arrival. We'll always let you know when we're on our way.
While providing you with clean out services, we work quickly and stay focused on the job so your appointment can get over with ASAP.
Going Above and Beyond
During your appointment, we'll exceed your expectations by providing you with service that truly shines. Here's how it works.
Show us all the junk that you need to get rid of in order to get started. We'll prepare an upfront quote for you to approve.
After you've given us the go-ahead, we will haul junk away fast! We'll never scrape your walls or floors as we get the job done.
You don't need to worry about damages because we are fully trained, fully insured, and have reassuring smiles on top of that!
Once we've hauled away all the unwanted items, we'll double back and sweep up behind ourselves as a little extra bonus for you.
Easy Booking
Scheduling with Altitude is simple!
Online Booking. Use our Book Now feature to claim your appointment anytime!
Call Us! You can reach us at (303) 459-2255 and we'll be happy to help you!
Spaces We Clean Out Include...
Denver Area Clean Out Service by Altitude Hauling
Family-Owned and Operated. We are proud to be a family business serving the Denver area!
The Services You Need. We do cleanouts for homeowners and businesses! From garages and attics to estates and warehouses and everything in between, we can meet all your junk removal needs!
Friendly Staff. Our crew is dependable, honest, and hardworking. We'll work hard to complete your cleanout so you can move on to more important things!
Convenient Appointments. Whether you're planning ahead or in a rush, we'll do everything we can to accommodate your timeline!
Incredible!! From the estimate to the final haul. Professional!!! Fair!!! Clean!! Organized!!! Prices are lower than 3 others I called. Most importantly, dependable! Others cxl. No show. Altitude was on time, efficient, you won't get this from others. I had them 2x at my gallery space. Their staff isn't the guys off Colfax looking for " Day " work! These men are hard workers and professional. That is ALL I need in a company . I highly recommend.

Elizabeth M.
Highly recommended! They promptly confirmed the appointment I booked online. They called me the day of and asked if it was okay to come 30 minutes early. When they arrived, they were professional and very quick. Plus I received $20 off for making the appointment online. Super easy company to work with.

Jeff S.
From start to blessed finish, this company exceeded expectations. It was so easy to schedule online. For a confirmation email and instructions, as well as a reminder the day before. They were on time and gave a call thirty minutes ahead of arrival as promised. I was able to leave and run an errand while they worked, and by the time I returned they were done! I'm very impressed and will use them again if I ever have the need. Thanks guys!
Becky T.
The owner and his wife are fantastic! He came to pick up my items and did a great job. He even swept out my garage. I will absolutely use his services again and will recommend them to anyone I know who needs the services they offer which are quite a few.

Anne B.
See More