Fridge Removal in Denver, CO
Fridge pick up is available now from your friends at Altitude Hauling! Our appliance removal pros will get the job done fast.
BOOK ONLINE NOW
Save $20 by Booking Online Now! Same & Next Day Service Available!
BOOK NOW
Instant Service Quote
Text Junk Removal Pictures
303-498-7212
Refrigerator Pick Up Near You
A refrigerator is a crucial part of every household kitchen and business break room. After all, food won't stay cold on its own. It's thanks to our refrigerators that we can enjoy healthy, unspoiled meals each and every day. However, when a refrigerator goes kaput, you're left in a tough situation. You'll need to replace that fridge fast before the food spoils. How are you going to get rid of the broken fridge, though? The answer is with our fridge removal. We are Altitude Hauling, the local junk removal business that serves Denver best!
Why Us for Fridge Removal?
If you're not careful, things can go wrong during do-it-yourself refrigerator removal. You can bump the appliance against the walls, causing unsightly scuff marks. You can hurt your back or your arms. If you're incredibly unlucky, you could even drop the refrigerator, perhaps even down a flight of stairs! Simply put, you should leave this sort of work to the professionals. Altitude Hauling is as professional as it gets, so give us a call!
Our team can handle a refrigerator with ease because we bring along several team members. Additionally, we are all used to heavy junk items thanks to all the junk removal projects we do. We'll move your refrigerator no problem, and best of all, we'll do it for a fair price. Our cost to remove a fridge is inexpensive, and there are never hidden fees!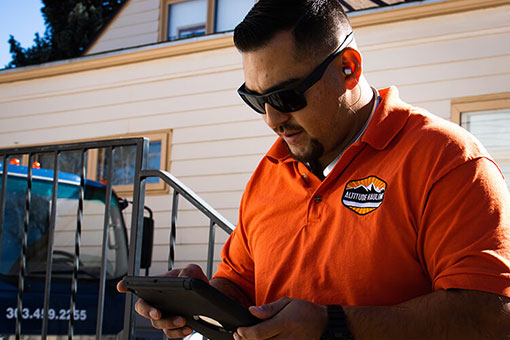 Our Fridge Removal Process
We will meet you at the specified appointment location during the 2-hour arrival window. When you receive our courtesy call, it means we're fifteen minutes out.
After we have taken a look at the refrigerator and determined how large it is, we will prepare an upfront service quote for your approval.
Next, we'll haul the refrigerator away. We'll be extra careful as we take it out your door and load it onto our truck. There will be no accidents!
Finally, we'll sweep up where the refrigerator was standing so you're not left with a pile of dust and crumbs. Now you can get a new fridge!
More Appliance Removal
If you need to get rid of more appliances in addition to the refrigerator, we can help! For example, a washing machine and dryer you have stashed away in the basement will be no problem for us. We'll just lift them up with a crew member on either side of the appliance, then take caution as we bring them up the stairs. If we deem it necessary, we may even use a helpful moving dolly. Other appliances we'll haul include freezers, ice machines, water heaters, water coolers, and even smaller appliances like microwaves, coffee makers, and toasters!
About Us
Altitude Hauling is Denver's choice for fairly priced fridge removal and other services! Our crew loves the community, and that's why they're always giving their 110% during each and every junk removal project we do. We also love our region for being a beautiful place, which is why we're so invested in cleaning up junk in the first place! Let's keep our home tidy together. To help reduce pollution and landfill waste, we'll even recycle and donate your old appliances and other household belongings.
Incredible!! From the estimate to the final haul. Professional!!! Fair!!! Clean!! Organized!!! Prices are lower than 3 others I called. Most importantly, dependable! Others cxl. No show. Altitude was on time, efficient, you won't get this from others. I had them 2x at my gallery space. Their staff isn't the guys off Colfax looking for " Day " work! These men are hard workers and professional. That is ALL I need in a company . I highly recommend.

Elizabeth M.
Highly recommended! They promptly confirmed the appointment I booked online. They called me the day of and asked if it was okay to come 30 minutes early. When they arrived, they were professional and very quick. Plus I received $20 off for making the appointment online. Super easy company to work with.

Jeff S.
From start to blessed finish, this company exceeded expectations. It was so easy to schedule online. For a confirmation email and instructions, as well as a reminder the day before. They were on time and gave a call thirty minutes ahead of arrival as promised. I was able to leave and run an errand while they worked, and by the time I returned they were done! I'm very impressed and will use them again if I ever have the need. Thanks guys!
Becky T.
The owner and his wife are fantastic! He came to pick up my items and did a great job. He even swept out my garage. I will absolutely use his services again and will recommend them to anyone I know who needs the services they offer which are quite a few.

Anne B.
See More