PIANO REMOVAL IN DENVER, GO
Get rid of a piano without doing any of the tough work yourself. Book an appointment with Altitude Hauling today!
BOOK ONLINE NOW
Save $20 by Booking Online Now! Same & Next Day Service Available!
BOOK NOW
Instant Service Quote
Text Junk Removal Pictures
303-498-7212
Full-Service Piano Removal Near You
There's something almost ethereal about piano music. It seems to swirl throughout your mind, making you wonder about the world itself. At least, if the piano music is good, it might cause you to become a little thoughtful. Your piano talents might have left you over the years. Maybe it was one of your kids that was proficient at the piano, and now, they've left. You may even be a business that has a piano lying around that nobody uses it. Is it time to find that piano a new home? Altitude Hauling can help! We're the piano removal pros in Denver, CO, and we can haul away your piano in the blink of an eye.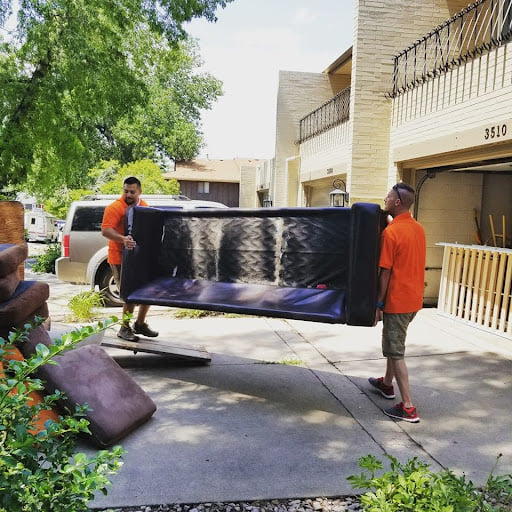 Why Us for Piano Removal?
A heavy piano can be difficult to move on your own. In fact, a do-it-yourself job will probably require you to find a friend or a family member. Then, assuming your schedule even align in the first place, you'll need to carefully remove the piano from the property, and don't even think about dropping it! Does this all sound like too much of a hassle for you? If so, your local friends at Altitude Hauling can do the work for you instead!
We are experienced when it comes to heavy lifting. We've grown quite the set of muscles from our constant junk removal work, so trust us when we say we can get that piano moving! Of course, our cost to remove a piano is a pretty strong selling point, too. We use volume-based pricing with no hidden fees so you can keep some savings in your wallet!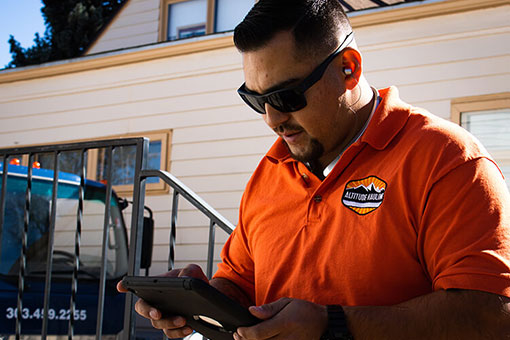 Our Piano Removal Process
First things first, expect us to be there on time during your appointment's 2-hour arrival window. We'll even give you a phone call when we're on the way.
Once we have arrived, guide us to the piano, accept our upfront service quote, and let us get to work. We will immediately lift it up and haul it away.
After the piano is in our truck, we will come back and sweep up where the piano was once standing. That way, you're not left with a giant pile of dust.
Pianos shouldn't just be carelessly left to rot in the landfill unless they're in poor condition. We will donate your piano to a thrift store such as the Habitat ReStore!
Piano Bench and Other Furniture Removal
If you have a piano, chances are, you have a piano bench. There are likely other kinds of furniture nearby, too, such as sofas, bookshelves, or folding chairs. Do you need to not just get rid of the piano, but also say goodbye to the other items in the room the piano's in? If so, our furniture removal will prove to be very helpful to you. We use the same principles for removing furniture that we use for removing pianos. We'll just lift the furniture up with the help of multiple team members when necessary, then carefully guide the furniture out to our truck.
About Us
Altitude Hauling is the trustworthy junk removal business in your area! Unlike the franchises, who charge extra to afford the brand name emblazoned on the sides of their trucks, we are locally owned and operated. Our brand is our own, and because of this, you'll get to enjoy lower prices. Of course, we're more than just affordable. We're friendly and fast, too—so when you need to get rid of a piano or any other kind of junk quick, let us know. We'll haul it away swiftly and never stop smiling the whole time!
Incredible!! From the estimate to the final haul. Professional!!! Fair!!! Clean!! Organized!!! Prices are lower than 3 others I called. Most importantly, dependable! Others cxl. No show. Altitude was on time, efficient, you won't get this from others. I had them 2x at my gallery space. Their staff isn't the guys off Colfax looking for " Day " work! These men are hard workers and professional. That is ALL I need in a company . I highly recommend.

Elizabeth M.
Highly recommended! They promptly confirmed the appointment I booked online. They called me the day of and asked if it was okay to come 30 minutes early. When they arrived, they were professional and very quick. Plus I received $20 off for making the appointment online. Super easy company to work with.

Jeff S.
From start to blessed finish, this company exceeded expectations. It was so easy to schedule online. For a confirmation email and instructions, as well as a reminder the day before. They were on time and gave a call thirty minutes ahead of arrival as promised. I was able to leave and run an errand while they worked, and by the time I returned they were done! I'm very impressed and will use them again if I ever have the need. Thanks guys!
Becky T.
The owner and his wife are fantastic! He came to pick up my items and did a great job. He even swept out my garage. I will absolutely use his services again and will recommend them to anyone I know who needs the services they offer which are quite a few.

Anne B.
See More