Junk Removal Services in Parker, CO – Altitude Hauling
Ready, Set, Haul!
Did you know that Parker was named the second-best place to live by Money magazine? With a title as impressive as that, your city deserves to be kept clean. Sometimes, that means getting the junk removal experts to sort out your home or business. So, what sort of junk is taking up space in your property? No matter what it is, we're ready to help you out.
Altitude Hauling is the top-rated solution for your Parker junk removal. We've provided our full-service junk removal to all of the local service areas, and we've never walked away from a job until our clients were satisfied. Ready to be our next success story? Then give us a call. We're looking forward to hearing from you!
Our Full-Service Team
Our team is made out of the best junk haulers available in the region. You'd be hard-pressed to find a hardworking crew like this anywhere else! That's because each of our employees understands the unique needs of every customer. Then, they can take those desires and translate them into good old-fashioned work.
Great Results!
You'll get results from us, no matter what junk you're having us haul. Our team works quickly and efficiently, meaning no job overstays its welcome. Now that's great service!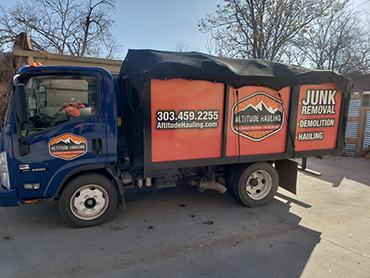 Your Local Solution
"Big box" businesses may seem like a good choice at first, but there are a few problems with them. One, they don't seem to understand that people don't like getting hit with surprise fees. You know the ones—the nonsensical service charges that they love so much. Two, they're out of touch with the community. After all, their headquarters may be halfway across the country.
Here to Serve Our Community
With Altitude Hauling, you can get Parker junk removal that's both local and friendly. Our business was founded in this community. After all, that's where our interests lie—within our own neighborhoods. 
Great and Inexpensive Pricing
What makes our pricing methods different from other companies is how we keep things transparent and straightforward. Some businesses like to dodge around the numbers until it's too late for you to back up. 
Keeping It Real
We, on the other hand, have nothing to hide. So you'll get a cost estimate as soon as the first phone call, and an upfront quote before we even start the job. In addition, once you've agreed to our quote, the price doesn't change. Consider it "locked in".
Schedule an Appointment Today!
Firstly,

call us

or

book your appointment online.

Inform us about some details regarding your

junk removal in Parker.

We'll serve you a cost estimate for the job, along with a 2-hour arrival window.

On the day of your appointment, let us in and show us the junk.

Accept our final quote, and we can begin our work immediately.