Junk Removal Services in Highlands Ranch, CO – Altitude Hauling
How It Works
Our process is simple enough. During your appointment, just invite us in and show us what junk you want off your property. We take many kinds of junk, ranging from general junk and trash to heavier objects such as appliances, furniture, and electronics. Whatever you have for us, we'll prepare an in-person, no-obligation quote for your approval. Then, once you give us the thumbs-up, we can start working on your Highlands Ranch junk removal right away.
Keep reading to learn more about what makes us the best choice for you! We're ready to put in that extra effort for your satisfaction. We hope you'll reach out to us—we'd love to meet you. Plus, with our same-day and next-day availability, we can help you out ASAP.
Our Hardworking Team
Some teams cut corners. Not ours. That's because our team is assembled of only the best of the best. Our employees know what it takes to get the job done, and they'll never give you anything less than that. They aim to please—and we think you'll like what they have to offer!
Focused and Efficient!
By staying focused on the job, we can give you top-notch, efficient service. Plus, with our down-to-earth and friendly attitudes, we won't feel like soulless robots either. Now that's customer service you'd be hard-pressed to find anywhere else!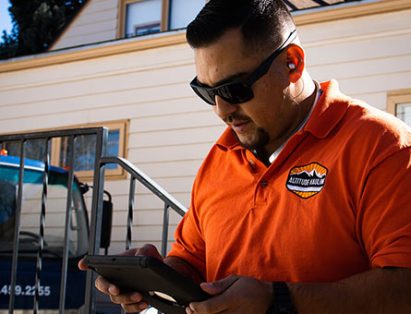 Locally Owned
Tired of dealing with national chains? Not only do these "big box" businesses lack that personal touch, but they're also sending their earnings out of our community and our state. Why not support a local business instead? 
A Neighborhood Business
Altitude Hauling was founded by your neighbors and strives to serve all of our local service areas. We're interested in supporting and learning more about our community, and we hope to make your acquaintance because of that!
Great Pricing
We aim to give you competitive pricing that provides a better value than our competitors. Above all else, we want our pricing models to be crystal-clear, just like the waters of Chatfield State Park. That's how all companies should operate, right?
All Honesty, No Tricks
Ever worked with a business that hit you with one hidden fee after another? Or, have you ever been lied to about a supposedly "upfront quote"? That's not how Altitude Hauling rolls. For your Highlands Ranch junk removal, you'll get real honesty and straightforwardness—and a fantastic price, too!
Schedule an Appointment
Then, tell us what items you'll need to be taken away during your

Highlands Ranch junk removal.

We'll serve you an over-the-phone cost estimate before helping you choose a day for your appointment.

Then, we'll provide a 2-hour arrival window so you know when to expect us.

On the day of your appointment, show us the junk, accept our quote, and we'll start working just like that.