Junk Removal Services in Denver, CO – Altitude Hauling
Junk Removal in Denver with Altitude Hauling
From a rusty, old appliance to an old hot tub, a mattress, or even an office full of furniture, everyone in Denver eventually needs junk removal services. Your friends at Altitude Hauling are here to help you with your project. With our same and next-day availability, we can have your home junk-free by the end of today or tomorrow! We don't just show up on time. We also work quickly to make sure your appointment is over in a timely manner. That way, you're not tied up with us all day long, and you can get back to your life as soon as possible. Save time with the friendly crew at Altitude Hauling! Our junk removal services in Denver are right for you.
Whether you're close to the Denver Botanic Gardens in the downtown area or live near the Rocky Mountain Arsenal Wildlife Refuge, we can make it out to you. If you have any questions about our other service areas, feel free to give us a call! Dial 303-459-2255 to connect with one of our friendly professionals now. We'd love nothing more than to learn more about your junk removal project. You can also contact us online if you'd prefer. Our online booking is available any time of the day for your convenience!
How Does Junk Removal Work?
We get this question all the time. Thankfully, junk removal doesn't have to be anything to stress over! If you're in need of our junk removal services, simply give us a call or use our online booking tool to schedule your hassle-free appointment. The pros at Altitude Hauling promise to always be on time and in uniform.
Once we get a chance to look at your junk, we'll offer you a firm, upfront quote for the job. You won't pay a penny more! When we offer you a quote, we won't hit you with any unexpected costs or hidden fees!
At Altitude Hauling, we are used to removing all kinds of junk. Do you have a bunch of small things for us to take away, such as clothes and toys? Or do you have many large objects like broken refrigerators and sofas? In either case, we can haul away whatever you need us to take. Our crew is qualified for jobs of all sizes, so don't sweat it and choose our business. There's nothing we can't do when it comes to junk removal!
How Much Does Denver Junk Removal Cost?
Here at Altitude Hauling, we strive to make our junk removal pricing as simple and straightforward as possible. That's why, when you first call us, we'll offer you a rough, no-obligations estimate, which we'll follow up with a firm quote on the day of service.
We don't charge for labor; we only charge for the space your junk takes up in our truck. If it's a single item, you better believe that you can check junk removal off your to-do list while barely affecting your wallet!
Did you that by choosing a local business such as Altitude Hauling, you can save money? We don't cost as much to run as a franchise-based junk removal company, and we're excited to reflect this reality in our prices. We will also never add hidden fees to your final bill. We keep our prices honest and keep your checking account in the green!
When Can I Get Started?
Altitude Hauling is rated five stars on Google and Yelp. Our customers always walk away from us satisfied, and we'd love to make you our next delighted client. So what are you waiting for?
Are you ready to work with Altitude Hauling to make your Denver home junk-free? We can't wait to hear from you. To get in touch with us, simply call Altitude Hauling or use our online booking tool to schedule your appointment for junk removal in Denver.
When we arrive at your door within our 2-hour arrival window, we will be ready to haul off all your junk. Simply point out what you want to make disappear and we will get rid of it for you in no time!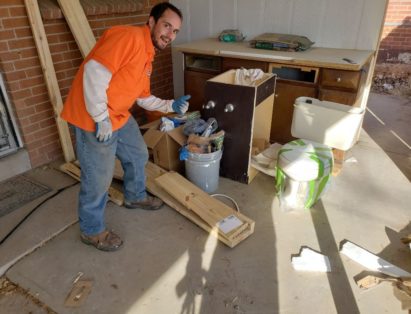 Eco-Friendly Junk Removal
When you choose our junk removal services in Denver, you don't have to feel guilty about any negative impact on the environment. Why? Because at Altitude Hauling, we always prioritize eco-friendly disposal. Here's how it works.
Firstly, if you have any recyclable materials such as plastic, metal, paper, cardboard, and glass, we will make sure they're taken to an appropriate recycling facility. When we haul away junk, we keep an eye out for these recyclables so we can sort them ahead of time. That way, nothing accidentally goes to the landfill when it belongs somewhere else.
Additionally, we haul junk to donation sites when it's still in good condition. In many cases, your kitchenware, toys, clothes, and other belongings might still be in a usable state. When this happens, we'll drop them off at a donation site such as the Habitat for Humanity ReStore of Denver.
Our Step-by-Step Process
Every appointment begins with our timely arrival. We will be there during the specified 2-hour arrival window. Additionally, we will call you when we're almost there. We are never, ever late!
Let us figure out how much junk you have, then approve our volume-based quote to lock in our price. Next, we'll start hauling your junk off your property and to our truck. Our crew does the work at a remarkable pace!
After loading up our truck, we'll make sure we didn't forget any junk and even sweep up behind ourselves before requesting payment. There are never hidden fees, so don't worry about any sneaky surprises. We play fair!
Finally, we'll wave goodbye and drive away. It's time for us to handle the disposal process and for you to get back to your day!
About Us
Our founder, Brandon Vasquez, decided he wanted to step away from his father's heating and air conditioning business and create something of his own. So with a truck and a trailer, he began loading up waste, providing the community with Denver hauling services. This was the beginning of something great—the birth of our business, Altitude Hauling.
Our crew now consists of many junk movers in Denver that would love to arrange a pick up with you. In fact, we not only serve Denver but many other nearby service areas as well. Additionally, know that we are a locally owned and operated business. We're not a franchise that sends our money out of the state. We support our regional economy and work hard to keep our home clean!