Donation Pickup in the Denver Area
Many people have items eligible for donation, but not everyone has the time or equipment to take them in. Don't fret; Altitude Hauling has your back!
BOOK ONLINE NOW
Save $20 by Booking Online Now! Same & Next Day Service Available!
BOOK NOW
Instant Service Quote
Text Junk Removal Pictures
303-498-7212
Goodwill and Donation Pickup from Altitude Hauling
To the parents of adult children reading, this scenario might sound familiar: your little sunshine is all grown up, and it's time for them to fly the nest. You watch as they pack their things, wave goodbye to their childhood memories, and finally say farewell as they leave for bigger and better things. It's the most bitter of bittersweet feelings; you hate to see your precious baby go, but they have their own life now, and the fact that they've gotten to this point is a beautiful thing in and of itself. But once the dust is settled, what are you to do with all the leftover remnants of their childhood—all those clothes, toys, appliances, furniture, and so forth? To many, the natural decision is to donate these materials to charity, but that's easier said than done. There's a lot that goes into donating, the least of which is actually taking the supplies to your charity of choice. For those wishing to donate, don't wait: contact Altitude Hauling today and let us do the honors for you!
Why Us for Charity Donation Pickup
We know what you're probably thinking: Why would I need a team to help me donate to charity? Now, if what you're donating is just a couple old t-shirts and pants, then you're right; you probably don't need our help. But consider a donation like an old couch left behind from a deceased relative. That's something that you'd have a heck of time getting from point A to point B, especially if your joints are worn out. That's where Altitude Hauling comes in.
When it comes to donations, there's not much we can't take. If you need a clothes donation pickup, we've got you covered. If you need a furniture donation pickup, we'll be there lickety-split! It doesn't matter if you're donating to Goodwill, to Habitat for Humanity, or to any other number of local charities. All you need to do is give us the details, and we'll get the job done quick and efficiently!
Above all else, Altitude Hauling prides itself on being trustworthy. We know it may be difficult handing off sentimental donations to a group of strangers, but you don't need to worry; though we usually haul away junk, we'll treat your donated items as if they were our very own!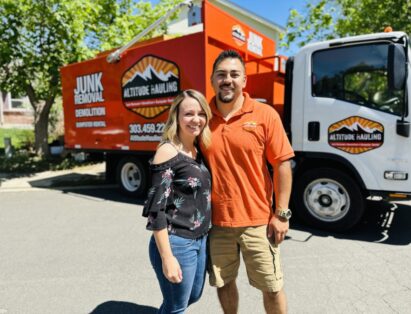 The Average Pickup Process
1. Everything starts with you. You can reach our offices at 303-459-2255 or schedule an appointment via our website's built-in booking system. From there, we'll work with you to schedule an appointment at a time that works best for you. Your time always comes first!
2. We'll give you a call when we're on our way to your property, so keep your phone on vibrate! On our slowest days, we should still arrive within a 2-hour window.
3. Once we're there, we'll begin the process of loading your donations into our trucks. Whether it's a pile of boxes or a living room's worth of furniture, we'll take care of it, and you won't have to lift a finger. Giving away clothes for charity has never been easier!
4. When everything is packed up, we'll close out the deal. If you don't have a charity in mind for your donations to go to, we'll drop them by our favorites in the Denver area. Smile bright knowing that you've done a good thing for a stranger in need!
Our Other Services
If our donation pickup services entice you, also consider some of our other offers. Try our garage cleanout service, for instance. If you've got a garage gunked up to the ceiling, one appointment is all it takes to clear that space out again. It doesn't matter what you've got in there; be it old garbage, busted furniture, broken appliances, or general debris, we can handle it all (and fast)!
If you don't have a garage but still need your personal space reclaimed from junk buildup, consider our house cleanouts! We'll gather our top hauling pros and go through your house step-by-step, gathering any and all junk that we can see. By the time we're done, your home will look brand new—and without a costly makeover, to boot!
About Us
Altitude Hauling is Denver's favorite junk hauling agency, but what's so special about us? Some say it's our commitment to the job; our appointments don't end until every last bit of junk is taken care of and our clients are satisfied to the greatest degree possible. Others say it's the speed of our service and our volume-based pricing system, which makes our services affordable even for lower-income households. While those things are great, what we believe makes Altitude Hauling the premiere junk service in Denver is our chipper attitude and dedication to friendliness. Even though we spend our days getting down and dirty with the yuckiest of junk, you won't see us with anything less than a grin on our faces when all is said and done. That's because we know a good attitude is infectious, and we'd love nothing more than to infect you with our brand of cheerfulness.
Altitude Hauling is proud to serve the families and businesses of Denver and its surrounding area. Here's to many more years of excellence!
Incredible!! From the estimate to the final haul. Professional!!! Fair!!! Clean!! Organized!!! Prices are lower than 3 others I called. Most importantly, dependable! Others cxl. No show. Altitude was on time, efficient, you won't get this from others. I had them 2x at my gallery space. Their staff isn't the guys off Colfax looking for " Day " work! These men are hard workers and professional. That is ALL I need in a company . I highly recommend.

Elizabeth M.
Highly recommended! They promptly confirmed the appointment I booked online. They called me the day of and asked if it was okay to come 30 minutes early. When they arrived, they were professional and very quick. Plus I received $20 off for making the appointment online. Super easy company to work with.

Jeff S.
From start to blessed finish, this company exceeded expectations. It was so easy to schedule online. For a confirmation email and instructions, as well as a reminder the day before. They were on time and gave a call thirty minutes ahead of arrival as promised. I was able to leave and run an errand while they worked, and by the time I returned they were done! I'm very impressed and will use them again if I ever have the need. Thanks guys!
Becky T.
The owner and his wife are fantastic! He came to pick up my items and did a great job. He even swept out my garage. I will absolutely use his services again and will recommend them to anyone I know who needs the services they offer which are quite a few.

Anne B.
See More