Junk Removal Services in Eldorado Springs, CO
If you need the help of expert junk haulers in Eldorado Springs, get in touch with Altitude Hauling!
BOOK ONLINE NOW
Save $20 by Booking Online Now! Same & Next Day Service Available!
BOOK NOW
Instant Service Quote
Text Junk Removal Pictures
303-498-7212
Our Hauling Services in Eldorado Springs
Eldorado Springs, CO is the home of many mountains, hiking trails, households, and businesses. However, you might find that your property in Eldorado Springs has become the home of a pile of junk. When this happens, what should you do? Instead of cleaning it up yourself, contact Altitude Hauling. Our junk removal services in Eldorado Springs will leave you smiling!
Why Altitude Hauling?
Do-it-yourself junk removal in Eldorado Springs, CO is a frustrating process. Instead of doing this exhausting physical labor on your own, contact Altitude Hauling instead! We are happy to remove junk for the residents, businesses, and property managers of Eldorado Springs because you deserve to take a break!
We will haul away your junk fast because we want to save you time. In addition, our junk removal prices in Eldorado Springs will leave you with savings to spare. That's because we use volume-based prices with no hidden fees ever attached!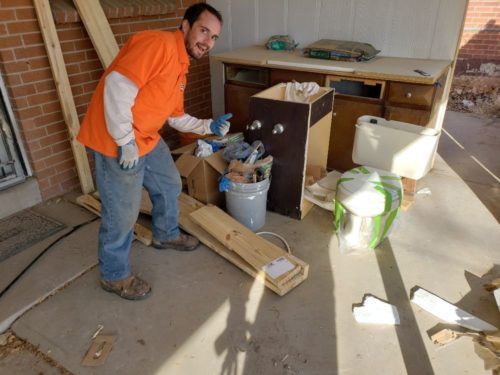 How It Works
We will give you a courtesy call when we're almost at your location. That way, you know when to expect us, and we don't catch you in the middle of anything.
Upon our arrival, please don't hesitate to show us all the junk that you would like to get rid of. Then, accept our upfront service quote so we can begin our work.
Junk removal is easy for us, so just make your distance as our professionals carry your clutter out the door. We'll load it onto our truck until it's all gone.
Finally, we will take your junk away to a nearby disposal site. Thanks for choosing our junk removal services in Eldorado Springs!
Demolition in Eldorado Springs
When you need the assistance of demolition pros in Eldorado Springs and other locations, Altitude Hauling is still the go-to company! That's right—not only do we haul junk, but we tear down unwanted structures, too. If you are tired of an old shed, fence, or hot tub taking up space on your property, let us know. We've got the tools we need to tear it down, including protective gear, sledgehammers, power tools, and of course, a big junk removal truck that we'll load up with all the demolition debris.
About Us
Altitude Hauling is the peak when it comes to junk removal. Our hardworking professionals are always ready to be at your service, and on the day of your appointment, they'll finish the work fast! Additionally, our affordable prices make it easy to work Altitude Hauling into your budget. The end-all is that you shouldn't have to remove your own junk, and we'll do everything it takes to make professional junk removal services a viable option for you. Ready to be treated like a neighbor? Then contact us, your community junk hauling business!
Incredible!! From the estimate to the final haul. Professional!!! Fair!!! Clean!! Organized!!! Prices are lower than 3 others I called. Most importantly, dependable! Others cxl. No show. Altitude was on time, efficient, you won't get this from others. I had them 2x at my gallery space. Their staff isn't the guys off Colfax looking for " Day " work! These men are hard workers and professional. That is ALL I need in a company . I highly recommend.

Elizabeth M.
Highly recommended! They promptly confirmed the appointment I booked online. They called me the day of and asked if it was okay to come 30 minutes early. When they arrived, they were professional and very quick. Plus I received $20 off for making the appointment online. Super easy company to work with.

Jeff S.
From start to blessed finish, this company exceeded expectations. It was so easy to schedule online. For a confirmation email and instructions, as well as a reminder the day before. They were on time and gave a call thirty minutes ahead of arrival as promised. I was able to leave and run an errand while they worked, and by the time I returned they were done! I'm very impressed and will use them again if I ever have the need. Thanks guys!
Becky T.
The owner and his wife are fantastic! He came to pick up my items and did a great job. He even swept out my garage. I will absolutely use his services again and will recommend them to anyone I know who needs the services they offer which are quite a few.

Anne B.
See More