Altitude Hauling | Shed Demolition in Denver
Are you ready to get that space in your yard back? Do you look out your kitchen window to see a shed that has seen its day? Well, don't let that rotting shed sit there any longer. Altitude Hauling specializes in Shed Demolition in Denver, as well as surrounding cities. A Shed Demolition project isn't a typical D-I-Y project. It requires the proper tools and expertise. Our team at Altitude Hauling has experience removing any sized shed made of any material. Your Shed Demolition in Denver doesn't have to be an overwhelming task any longer.
One quick call to our team and we can arrive with 24 hours to demolish your shed. Once we arrive we give a firm price which is solely based on the amount of space your items take up in the truck. This means all labor is included! And don't worry there are no surprises at the end. Our quotes are all inclusive of labor, tax and any dump fees we incur.
#1 Choice for Shed Demolition in Denver 
Nobody makes it easier than us. We offer convenient online bookings or if you prefer you can call us with any questions and we can schedule the job. Within 24 hours of calling our team arrives on your job site and begins the work. Our professional junk truck is the size of approximately 8 full-size pickups, so no matter how large the shed is we have got it covered.  Once the shed is demolished we remove all the debris. Once the debris is loaded up into our truck off to the dump we go. No stress or hassle for you.
With Altitude Hauling you know you are getting the best price as well. Since we are a locally owned family business our rates are the most affordable in Denver. Don't delay a second longer. Call us today and find out why we are one of the top rated junk removal companies in Denver.
Is your backyard home to an unused or underused shed that has seen better days? Sheds, being made of wood if there's proper maintenance are at risk for major deterioration over time. Perhaps your shed has been in place for a long time and you need an upgrade, whatever the case may be, shed demolition is a big job that you don't want to take on by yourself.
Altitude Hauling performs light demolition services in the Denver, Thornton, and Arvada areas and can remove your shed leaving you with a clear space to create whatever you wish.
Why Shed Removal?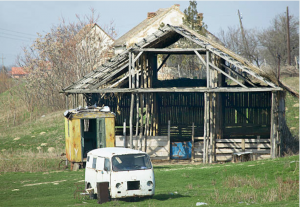 Your once great storage space over time can begin to rot and decay and become a welcoming home to insects and other critters. It can also become a safety hazard if the structure becomes compromised due to mold or rotten wood.  You can check the structural stability of your shed by examining it for leaks, warping, loose fastenings, levelness of the base, window and door damage, and so on. If any of these features require attention and replacing, it may lead to the entire shed needing you to replace which would result in shed demolition.
If your shed is in bad shape, it could not only be creating an eyesore for you, but for others in your neighborhood. A rotting structure or one that is in poor condition can lower your property value. Consider having the team at Altitude Hauling in Denver, Thornton, and Arvada remove your shed and free up your outdoor space to create a more eye-pleasing sight, free of a rotten shed.
What Will You Build?
Altitude Hauling has all the tools necessary to remove your unwanted shed, no matter what it is made out of and no matter where on your property it is located. We'll even remove your junk from your shed before we demolish it! Altitude Hauling works quickly to tear down your shed and remove all of the elements, cleaning the area, leaving you with a clean space, free to dream up what you will do next in your backyard. BBQ? Playset? Garden?
Call Altitude Hauling
Once your shed demolition project is complete, you may discover that you want to continue cleaning out
the junk from your home and yard. From yard waste to furniture removal, Altitude Hauling serves the Denver, Thornton, and Arvada areas and is happy to meet all of your junk hauling and light demolition needs.
Altitude Hauling does an amazing job with shed demolition and junk removal, so all you have to do is call, and the junk is gone!
Contact Altitude Hauling Denver, Thornton, and Arvada today for all of your junk hauling needs.