Same Day Junk Removal (I mean today!)
It's that time of year the week before Christmas and it's time to talk about Same Day Junk Removal. I think we can all walk around the house and look around at items that we no longer need. Maybe it was an old couch laying around. Or could it be the hot tub that hasn't been used in months? We all tend to accumulate items throughout the year. Then when the holidays roll around it is time for some "spring cleaning". Well, not exactly spring cleaning but more of a winter purge. Time is of the essence, we have all got family on the way and the LAST thing we want to worry about is Junk Removal. That is why your friends at Altitude Hauling are ready to handle you Junk Removal job. No need to plan ahead on this one, because we offer Same Day Junk Removal!
Junk Removal should be the last thing on your mind
One week from now, we will all be getting up a Christmas morning running downstairs to see what is under the tree. One week left of shopping, cooking, cleaning and getting ready for the family. The last thing we have time for is that junk sitting in the front yard. Or that Junk sitting in the backyard. That is why Altitude Hauling is pleased to offer Same Day Junk Removal. With all the planning happening this week we've got you covered with your Junk Removal job. Same Day Junk Removal is offered in Denver and the surrounding cities. If you call, we will come and haul. Time is of the essence though. With only a few days left before the big day, you need to call and book your Same Day Junk Removal appointment today. Spots are filling up fast, don't forget to book online and save $20.
All labor included
Let me repeat, all labor included! Got an old sofa, fridge, TV or other items. Have you got boxes of junk in the garage? When you call for Same Day Junk Removal all you need to do is point!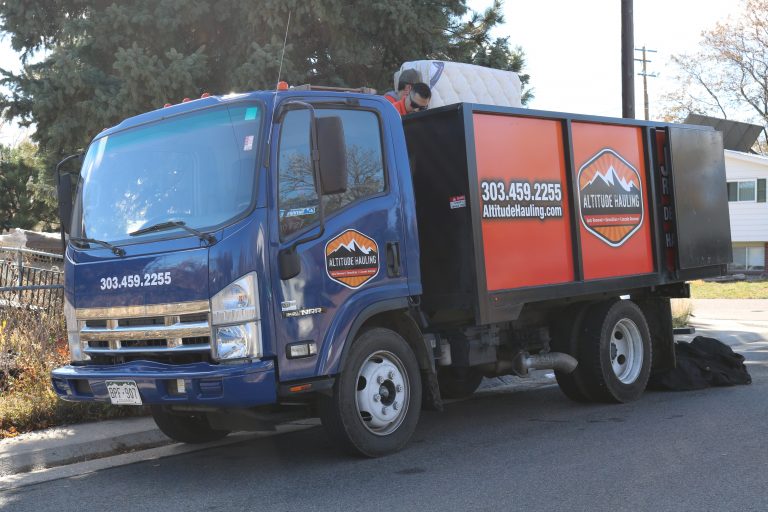 All the labor, disposal fees, and taxes are included in our prices. No hidden fees, no upcharges, no surprise bills. Everything is included in our prices even our smiles when we come out. Don't get nickeled and dimed by those big junk removal companies. Altitude Hauling is a full-service, family owned and operated junk removal company. We come out with uniformed employees all fully insured and we take care of your Same Day Junk Removal needs.